Geschiedenis
Edit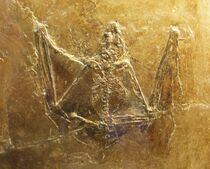 Vleermuizen zijn dieren die al sinds vroeg in de evolutie van zoogdieren bestaan. Er zijn fossielen van vleermuizen gevonden die dateren uit het vroeg eoceen, ongeveer 52 miljoen jaar geleden. Deze zeer goed bewaard gebleven fossielen, uit de Messel groeve, laten zien dat de vleermuizen al sinds het eocene echolocatie en vlucht hadden ontwikkeld (zie figuur 1). Dit is sinds dien verder verfijnd tot de vleermuizen die nu rondvliegen [1].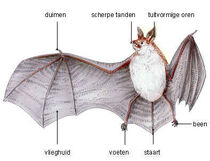 Een vleermuis is aan een aan aantal specifieke punten in zijn lichaamsbouw. Deze zijn weergegeven in figuur 1. Ten eerste zijn er natuurlijk de vleugels. Deze bestaat uit een van de snelst groeiende weefsels van het dierenrijk, en groeit maar liefst 3 keer sneller terug dan het weefsel van een mens. Scheuren hierin worden dus snel weer geheeld, wat belangrijk is voor de vlucht [2]. Echolocatie is natuurlijk ook een belangrijke eigenschap van vleermuizen. deze vind plaats door het uitstoten van kleine snelle geluiden, die de vleermuis daarna met z'n oren opvangt. Dit is echter maar een korte beschrijving, voor een complete omschrijving wordt geacht de bron te bekijken [3].
Levenswijze
Edit
Vleermuizen leven s 'winters voornamelijk in spouwen van huizen en oude gebouwen, waardoor vleermuisvriendelijk bouwen belangrijk is geworden in recente jaren. Dit is ook opgenomen in het Bouwbesluit 2012.
[1]: Simmons, Nancy B., and Jonathan H. Geisler. "Phylogenetic relationships of Icaronycteris, Archaeonycteris, Hassianycteris, and Palaeochiropteryx to extant bat lineages, with comments on the evolution of echolocation and foraging strategies in Microchiroptera. Bulletin of the AMNH; no. 235." (1998).
[2]: Swartz, S. M., et al. "Mechancial properties of bat wing membrane skin." Journal of Zoology 239.2 (1996): 357-378.
[3]: Obrist, Martin K. "Flexible bat echolocation: the influence of individual, habitat and conspecifics on sonar signal design." Behavioral Ecology and Sociobiology 36.3 (1995): 207-219.
[4]: Internetbron <http://en.wikipedia.org/wiki/Palaeochiropteryx>
[5]: Internetbron <http://www.beesies.nl/animals/vleermuis.htm